Classic Games Remade
Full fledged 80s style adventure game. Perfect for the 35+ yr old masculine gamer – many have fond memories of this kind of game that runs very poorly on emulators.
Classic Games Remade
Popularity: 1% [?]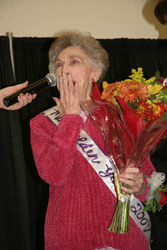 Salt Lake City, UT (Vocus) September 1, 2010
Who:     For the 14th consecutive year, dynamic contestants, ranging in age from mid 80's to 90+ will be vying for the title "Mr. and Ms. Golden Years". All contestants are residents of Utah's long-term care facilities and will be representing their hometowns throughout the state.
What:     Mr. & Ms. Golden Years Pageant

This year's theme is: "The Way You Look Tonight" and as such, we will be celebrating the beauty (both inside and out) of each person on stage and the rich lives and many accomplishments of these amazing Utah seniors.

The life experiences, anecdotes and sage words of wisdom provided by these lively contestants are sure to provoke a wide range of emotions, as contestants will be asked a variety of questions such as:"If you could give the youth of today one piece of advice, what would it be?" and "if you could put one thing that best represents you in a time capsule, what would it be?"
On hand to crown the new 2010 Mr. & Ms. Golden Years will the reigning 2009 royalty.
Where: South Towne Exposition Center – Room 300

9575 South State Street – Sandy, UT
When: Tuesday, September 7, 2010

8:30 a.m. until 10:45 a.m.

Crowning at Approximately 10:30 a.m.
For More Information:

Deb Burcombe, Utah Healthcare Association

M: 801-647-7605

O: 801-486-6100
###
Popularity: 1% [?]
80s Fashions
All Louise wanted was to get Brad's attention… and luckily for her she's a descendant of Salem Witches!
Another movie my best friend sent me to borrow (for the purposes of 8o's rewind post/content of course) and what's so sad is that until I rewatched it the only part I could vividly remember was the Top That rap segment.  Louise is the typical teenage girl at school who isn't popular, has the worst life, never gets the hot guys, and everything always goes wrong for her.  All of this changes when she realizes she's actually a witch and has powers… and then to keep the plot going, she starts setting out to make herself be as popular as she wants to be.  I know, the write up of the plot makes it sound bad but remember; it's an 80′s movie!  Quite frankly, as basic as the plot is (and yeah, you can follow point a to point b with just what I've said and guess what happens at the end… maybe), I'm glad to have rewatched it because it was very enjoyable.
It's got the basic romance and teen angsty elements that most of the films of that time had, it's got witches and spells and spells gone wrong… and 80′s clothes, style, and music.  What's not to want to see there?  I leave you with not only the official movie trailer (and Lord, 80′s trailers were so baaaad) and the clip of the afforementioned Top That rap scene.  Check it out sometime!
Popularity: 9% [?]